Cretan Recipes
Greek Salad with Olives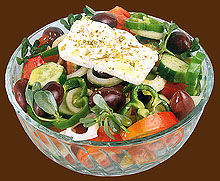 2 firm tomatoes
2 cucumbers
1/2 cup purslane
1 medium size onion
1/2 cup parsley
1 green pepper
1 tbsp pickled capers
5-6 black olives
1/2 teaspoon salt
100 grams feta cheese
1 teaspoon oregano
4 tbsp olive oil
1 tbsp vinegar
Wash tomatoes, cucumbers, parsley, green pepper, and purslane. Cut all of them into pieces and put in a salad bowl. Add capers, onion cut into thin rings and olives. Season with salt and oregano, pour over the dressing with olive oil and vinegar and mix. At the end place feta cheese on the top of the salad.
Octopus in Olive oil and vinegar.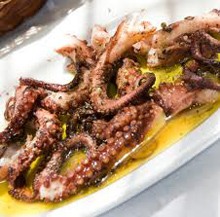 1 Kg octopus
2-3 Bay leaves
5-6 peppercorns
1/2 cup vinegar
1/2 cup olive oil
Wash the octopus or octopuses and place in a pan with the bay leaves and peppercorns. Cook in a low heat in its own juices until tender. If needed and vinegar.
Once the octopus has cooled, cut into small pieces and place in a jar. Add vinegar and then olive oil to cover. Oil that it has been scented with garlic is preferred. Close the jar and store in a cool place.
Kritharokouloura (Rusks with tomato and olive oil)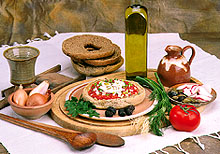 The rusks used for this dish are usually round and made from barley or barley and wheat. Rusks seasoned with tomato and olive oil are very popular in Crete, but recently they've become popular in other parts of Greece, too.
2 thick barley or whole wheat paximathia (rusks)
2 ripe tomatoes, peeled, seeded and chopped
2 tbsp olive oil, salt, oregano
100 grams crumbled feta cheese.
Sprinkle rusks with very little water to dampen and soften slightly. Place each one on plate, drizzle tomato, salt, olive oil, oregano and feta cheese and serve immediately. Alternatively you can break the rusk into chunks.
Eggs with tomato sauce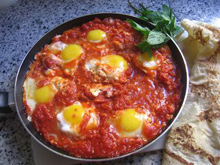 1 medium-size onion, finely chopped
1 bell pepper, finely chopped,
2 tomatoes peeled, seeded and chopped
2 Tbsp Olive Oil, salt, pepper,
2 Tbsp grated cheese (optional), 2 eggs.
Fry onion and pepper in olive oil until soft. Add tomatoes, salt and pepper and when the sauce thickens, stir in cheese. Break the eggs in the sauce, sprinkle with a little salt and fry until the egg whites are cooked.
Aubergines with tomato sauce.
2 large aubergines
3-4 medium-size potatoes
1/2 Kg tomatoes, peeled, seeded and chopped
Cumin, oregano
150 grams crumbled feta cheese
1 cup of olive oil for frying.
Cut aubergines lengthwise into large oval slices and put in salted water for about one hour. Slice the potatoes like the aubergines and fry until lightly brown. Drain on kitchen roll, place on a plate and season with salt.
Drain aubergines completely, fry and drain again on kitchen roll. Place on top of potatoes and salt them, too. Heat a little water in a pan and cook onion in it, until it is soft. When water is absorbed, add olive oil, tomatoes, very little salt, pepper, cumin and oregano. Cook until the sauce thickens and then pour it over the potatoes and the aubergines. Sprinkled with crumbled feta cheese, if desired, and serve. The dish is equally delicious when it is cold.
Dried beans with meat in oven
1 Kg meat (pork, veal or goat)
1/2 Kg dried beans
2 medium onions, finely chopped
4 medium tomatoes, peeled seeded and chopped,
3 slices of sun dried tomatoes
2 finely chopped garlic cloves
1/2 cup Olive Oil
salt, pepper
1/2 cup finely chopped parsley
1 chilli pepper (optional)
In a large pot put beans with enough water to cover them and boil for 10 minutes. Drain the beans. Wash meat, cut into cubes and place in a baking tray. Add beans, onions, tomatoes, garlic, olive oil, parsley, chilli pepper, salt and freshly ground black pepper. Pour one liter water over beans, cover with aluminum foil and bake in moderate heat for about 2 hours. When food is almost ready, uncover the pan and bake for a further 15 minutes.